Addictions
Addictions of psychoactive substances to internet and other are treatable.
Depression
Clinical depression needed to be analysed before starting a proper management.
Anxiety
Anxiety Disorders from Situational anxiety to Severe Phobias are managed.
Schizophrenia
Schizophrenia is major Psychiatric disorder with a chronic course and variable outcome.
Bipolar Disorder
Cyclic /Episodic Mood Disorder between depression to mania needs mood stabilization.
OCD
Repetitive intrusive thoughts which interfere with functionality of the individual need attention.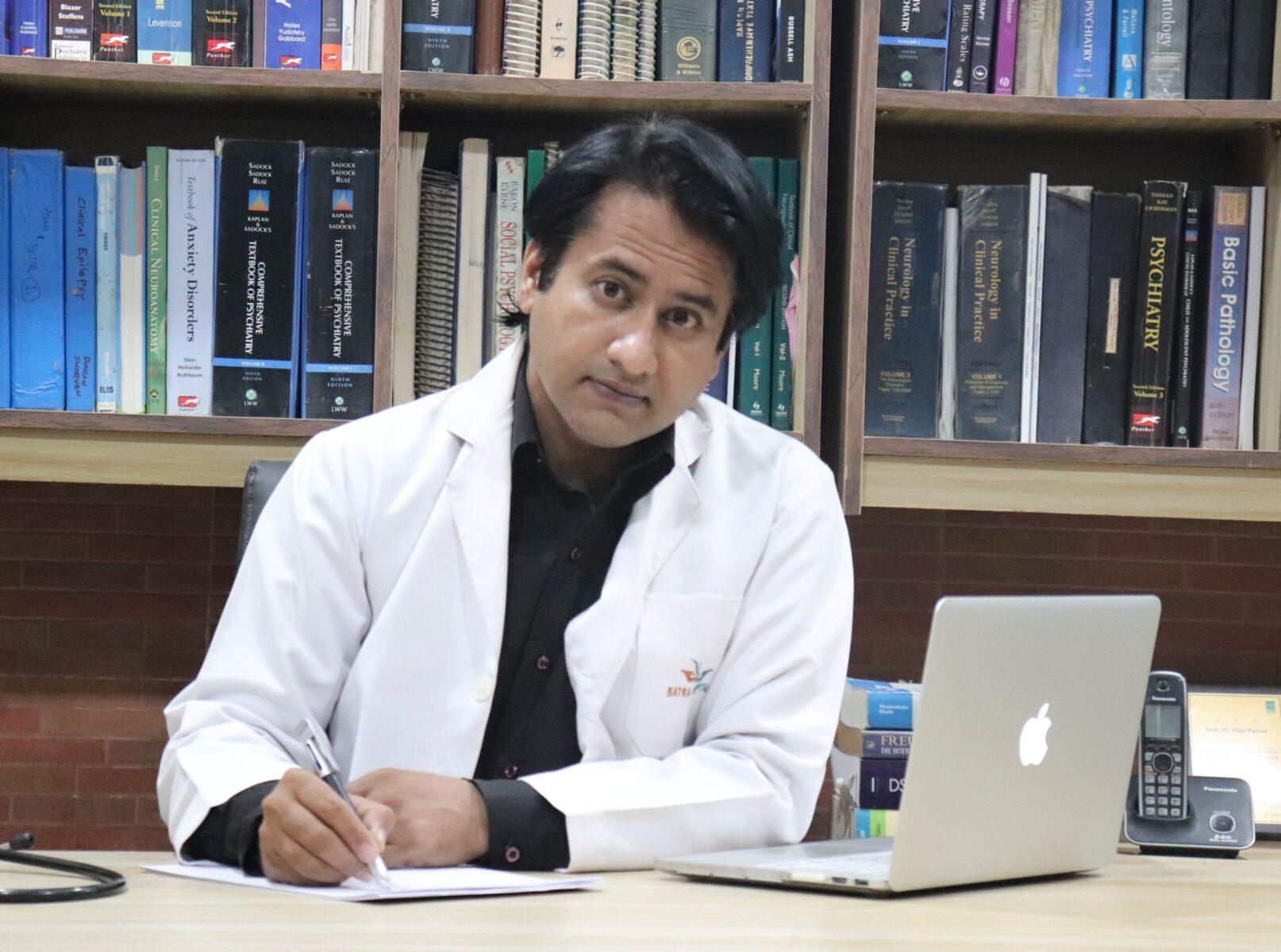 I Can Help
Dr Vijay PathakMBBS MD Psychiatry (CIP RANCHI)Positive Psychology & Psychiatry Practitioner Since 2005Dr. Vijay Pathak is a well-known Consultant and practicing psychiatrist in delhi. After completion of MBBS from Sardar Patel Medical College, Bikaner (University of Rajasthan), he worked in different specialties as Neurology, Neurosurgery, Plastic Surgery, Urology as resident Doctor. The grossly unnoticed psychological trauma among patients tilted his interest in Mental Health and he obtained an MD in Psychiatry from the legendry Central Institute of Psychiatry ,Ranchi.. He then worked in the Department of Psychiatry of RML Hospital New Delhi as Senior Resident for three years and as Research Officer for a further one year. During this period he also gained experience in the Drug Dependence TreatmentHis areas of specialization include adult psychiatry (bipolar disorders, schizophrenia and anxiety disorders), child and adolescent psychiatry (especially ADHD), de-addiction (alcohol and substance abuse) and community psychiatry. One of the Top Psychiatrist in Delhi Dr. Pathak is known to be not only effective but also compassionate with his patients, as a result of which they trust him and connect well with him.Dr. Vijay Pathak, also termed as one of the Best Psychiatrist in Delhi by many of his patients in reviews , has extensive training and experience in his profession and is well-versed in the segments of psychopathology, psychopharmacology, neuroscience, clinical genetics, psychological therapies, research methodology, and statistics.
Dr Vijay Pathak Consultant Psychiatrist in Delhi can be found on google by following tags  Psychiatrist In Delhi, Best Psychiatrist in delhi, Top Psychiatrist in Delhi, Delhi Psychiatrist, Psychiatrist in Rajouri Garden,Best Psychiatrist in Rajouri Garden, Psychiatrist in Hari Nagar, Psychiatrist in Tagore Garden, Psychiatrist in Raja Garden, Psychiatrist in Central Delhi, Psychiatrist in Ramesh Nagar, Psychiatrist in Moti Nagar, Psychiatrist in Shadipur, Psychiatrist Near Me,  Psychiatrist in Karol Bag, Psychiatrist in Rajendra Nagar, Psychiatrist in Punjabi Bag, Psychiatrist in Paschim Vihar,  Psychiatrist in Vikaspuri, Best Psychiatrist in uttam nagar, Best Psychiatrist in subhash nagar, Best Psychiatrist indwarka, Best Psychiatrist in nazafgarh, Best Psychiatrist in bali nagar, Best Psychiatrist in patel nagar, Best Psychiatrist in rani bagh, Best Psychiatrist in west delhi, Best Psychiatrist in tilak nagar, Best Psychiatrist innavada, Best Psychiatrist in delhi cantt, Best Psychiatrist in pitampura, Best Psychiatrist in rohini, Best Psychiatrist in ashok vihar