Behavior or Conduct Problems in Children
Children sometimes argue, are aggressive, or act angry or defiant around adults. A behavior disorder may be diagnosed when these disruptive behaviors are uncommon for the child's age at the time, persist over time, or are severe.  Because disruptive behavior disorders involve acting out and showing unwanted behavior towards others they are often called externalizing disorders. 
Oppositional Defiant Disorder
When children act out persistently so that it causes serious problems at home, in school, or with peers, they may be diagnosed with Oppositional Defiant Disorder (ODD). ODD usually starts before 8 years of age, but no later than by about 12 years of age. Children with ODD are more likely to act oppositional or defiant around people they know well, such as family members, a regular care provider, or a teacher. Children with ODD show these behaviors more often than other children their age. 
Examples of ODD behaviors include
Often being angry or losing one's temper

 

Often arguing with adults or refusing to comply with adults' rules or requests

 

Often resentful or spiteful

 

Deliberately annoying others or becoming annoyed with others

 

Often blaming other people for one's own mistakes or misbehavior

 
Conduct Disorder
Conduct Disorder (CD) is diagnosed when children show an ongoing pattern of aggression toward others, and serious violations of rules and social norms at home, in school, and with peers. These rule violations may involve breaking the law and result in arrest. Children with CD are more likely to get injured and may have difficulties getting along with peers. 
Examples of CD behaviors include
Breaking serious rules, such as running away, staying out at night when told not to, or skipping school

 

Being aggressive in a way that causes harm, such as  bullying, fighting, or being cruel to animals

 

Lying, stealing, or damaging other people's property on purpose

 
Treatment for disruptive behavior disorders
Starting treatment early is important. Treatment is most effective if it fits the needs of the specific child and family. The first step to treatment is to talk with a healthcare provider. A comprehensive evaluation by a mental health professional may be needed to get the right diagnosis. Some of the signs of behavior problems, such as not following rules in school, could be related to learning problems which may need additional intervention. For younger children, the treatment with the strongest evidence is behavior therapy training for parents, where a therapist helps the parent learn effective ways to strengthen the parent-child relationship and respond to the child's behavior. For school-age children and teens, an often-used effective treatment is a combination of training and therapy that includes the child, the family, and the school. 
Managing Symptoms: Staying Healthy
Being healthy is important for all children and can be especially important for children with behavior or conduct problems. In addition to behavioral therapy and medication, practicing certain healthy lifestyle behaviors may reduce challenging and disruptive behaviors your child might experience. Here are some healthy behaviors that may help: 
Engaging in regular physical activity, including aerobic and vigorous exercise

 

Eating a healthful diet centered on fruits, vegetables, whole grains, legumes (for example, beans, peas, and lentils), lean protein sources, and nuts and seeds

 

Getting the recommended amount of sleep each night based on age

 

Strengthening relationships with family members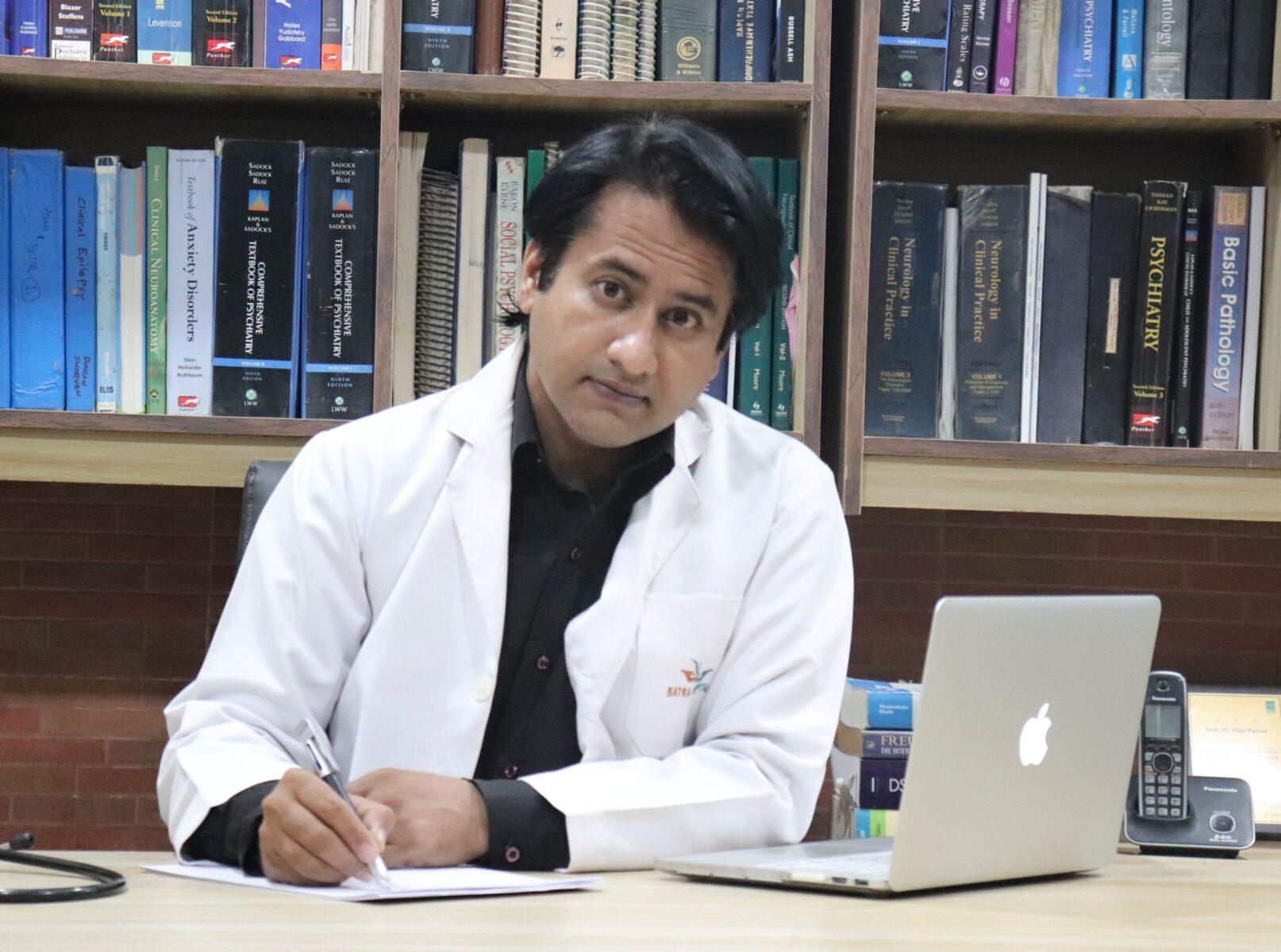 I Can Help
Dr Vijay PathakMBBS MD Psychiatry (CIP RANCHI)Positive Psychology & Psychiatry Practitioner Since 2005Dr. Vijay Pathak is a well-known Consultant and practicing psychiatrist in delhi. After completion of MBBS from Sardar Patel Medical College, Bikaner (University of Rajasthan), he worked in different specialties as Neurology, Neurosurgery, Plastic Surgery, Urology as resident Doctor. The grossly unnoticed psychological trauma among patients tilted his interest in Mental Health and he obtained an MD in Psychiatry from the legendry Central Institute of Psychiatry ,Ranchi.. He then worked in the Department of Psychiatry of RML Hospital New Delhi as Senior Resident for three years and as Research Officer for a further one year. During this period he also gained experience in the Drug Dependence TreatmentHis areas of specialization include adult psychiatry (bipolar disorders, schizophrenia and anxiety disorders), child and adolescent psychiatry (especially ADHD), de-addiction (alcohol and substance abuse) and community psychiatry. One of the Top Psychiatrist in Delhi Dr. Pathak is known to be not only effective but also compassionate with his patients, as a result of which they trust him and connect well with him.Dr. Vijay Pathak, also termed as one of the Best Psychiatrist in Delhi by many of his patients in reviews , has extensive training and experience in his profession and is well-versed in the segments of psychopathology, psychopharmacology, neuroscience, clinical genetics, psychological therapies, research methodology, and statistics.
Dr Vijay Pathak Consultant Psychiatrist in Delhi can be found on google by following tags  Psychiatrist In Delhi, Best Psychiatrist in delhi, Top Psychiatrist in Delhi, Delhi Psychiatrist, Psychiatrist in Rajouri Garden,Best Psychiatrist in Rajouri Garden, Psychiatrist in Hari Nagar, Psychiatrist in Tagore Garden, Psychiatrist in Raja Garden, Psychiatrist in Central Delhi, Psychiatrist in Ramesh Nagar, Psychiatrist in Moti Nagar, Psychiatrist in Shadipur, Psychiatrist Near Me,  Psychiatrist in Karol Bag, Psychiatrist in Rajendra Nagar, Psychiatrist in Punjabi Bag, Psychiatrist in Paschim Vihar,  Psychiatrist in Vikaspuri, Best Psychiatrist in uttam nagar, Best Psychiatrist in subhash nagar, Best Psychiatrist indwarka, Best Psychiatrist in nazafgarh, Best Psychiatrist in bali nagar, Best Psychiatrist in patel nagar, Best Psychiatrist in rani bagh, Best Psychiatrist in west delhi, Best Psychiatrist in tilak nagar, Best Psychiatrist innavada, Best Psychiatrist in delhi cantt, Best Psychiatrist in pitampura, Best Psychiatrist in rohini, Best Psychiatrist in ashok vihar