Anxiety & Depression in Children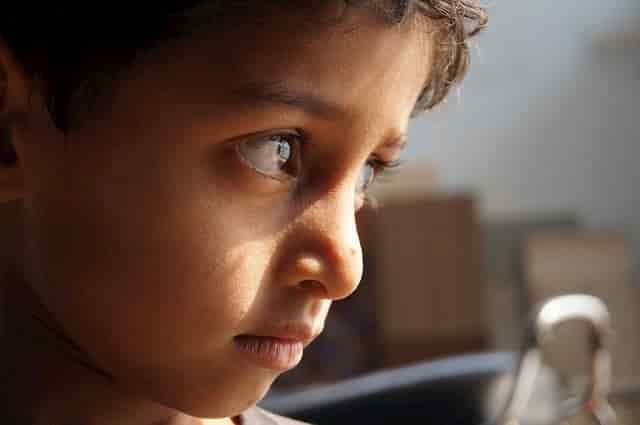 Many children have fears and worries, and may feel sad and hopeless from time to time. Strong fears may appear at different times during development. For example, toddlers are often very distressed about being away from their parents, even if they are safe and cared for. Although fears and worries are typical in children, persistent or extreme forms of fear and sadness could be due to anxiety or depression. Because the symptoms primarily involve thoughts and feelings, they are called internalizing disorders. 
Anxiety
When a child does not outgrow the fears and worries that are typical in young children, or when there are so many fears and worries that they interfere with school, home, or play activities, the child may be diagnosed with an anxiety disorder. Examples of different types of anxiety disorders include 
Being very afraid when away from parents (separation anxiety)

 

Having extreme fear about a specific thing or situation, such as dogs, insects, or going to the doctor (phobias)

 

Being very afraid of school and other places where there are people (social anxiety)

 

Being very worried about the future and about bad things happening (general anxiety)

 

Having repeated episodes of sudden, unexpected, intense fear that come with symptoms like heart pounding, having trouble breathing, or feeling dizzy, shaky, or sweaty (panic disorder)

 
Anxiety may present as fear or worry, but can also make children irritable and angry. Anxiety symptoms can also include trouble sleeping, as well as physical symptoms like fatigue, headaches, or stomachaches. Some anxious children keep their worries to themselves and, thus, the symptoms can be missed. 
Depression
Occasionally being sad or feeling hopeless is a part of every child's life. However, some children feel sad or uninterested in things that they used to enjoy, or feel helpless or hopeless in situations they are able to change. When children feel persistent sadness and hopelessness, they may be diagnosed with depression. 
Examples of behaviors often seen in children with depression include 
Feeling sad, hopeless, or irritable a lot of the time

 

Not wanting to do or enjoy doing fun things

 

Showing changes in eating patterns – eating a lot more or a lot less than usual

 

Showing changes in sleep patterns – sleeping a lot more or a lot less than normal

 

Showing changes in energy – being tired and sluggish or tense and restless a lot of the time

 

Having a hard time paying attention

 

Feeling worthless, useless, or guilty

 

Showing self-injury and self-destructive behavior

 
Extreme depression can lead a child to think about suicide or plan for suicide. For youth ages 10-24 years, suicide is among the leading causes of death. 
Some children may not talk about their helpless and hopeless thoughts, and may not appear sad. Depression might also cause a child to make trouble or act unmotivated, causing others not to notice that the child is depressed or to incorrectly label the child as a trouble-maker or lazy. 
Treatment for anxiety and depression
The first step to treatment is to talk with a healthcare provider such as your child's primary care provider, or a mental health specialist, about getting an evaluation. The American Academy of Child and Adolescent Psychiatry (AACAP) recommends that healthcare providers routinely screen children for behavioral and mental health concerns. pdf . Some of the signs and symptoms of anxiety or depression in children could be caused by other conditions, such as trauma. Specific symptoms like having a hard time focusing could be a sign of attention-deficit/hyperactivity disorder (ADHD). It is important to get a careful evaluation to get the best diagnosis and treatment. Consultation with a health provider can help determine if medication should be part of the treatment. A mental health professional can develop a therapy plan that works best for the child and family. Behavior therapy includes child therapy, family therapy, or a combination of both. The school can also be included in the treatment plan. For very young children, involving parents in treatment is key. Cognitive-behavioral therapy is one form of therapy that is used to treat anxiety or depression, particularly in older children. It helps the child change negative thoughts into more positive, effective ways of thinking, leading to more effective behavior. Behavior therapy for anxiety may involve helping children cope with and manage anxiety symptoms while gradually exposing them to their fears so as to help them learn that bad things do not occur. 
Treatments can also include a variety of ways to help the child feel less stressed and be healthier like nutritious food, physical activity, sufficient sleep, predictable routines, and social support.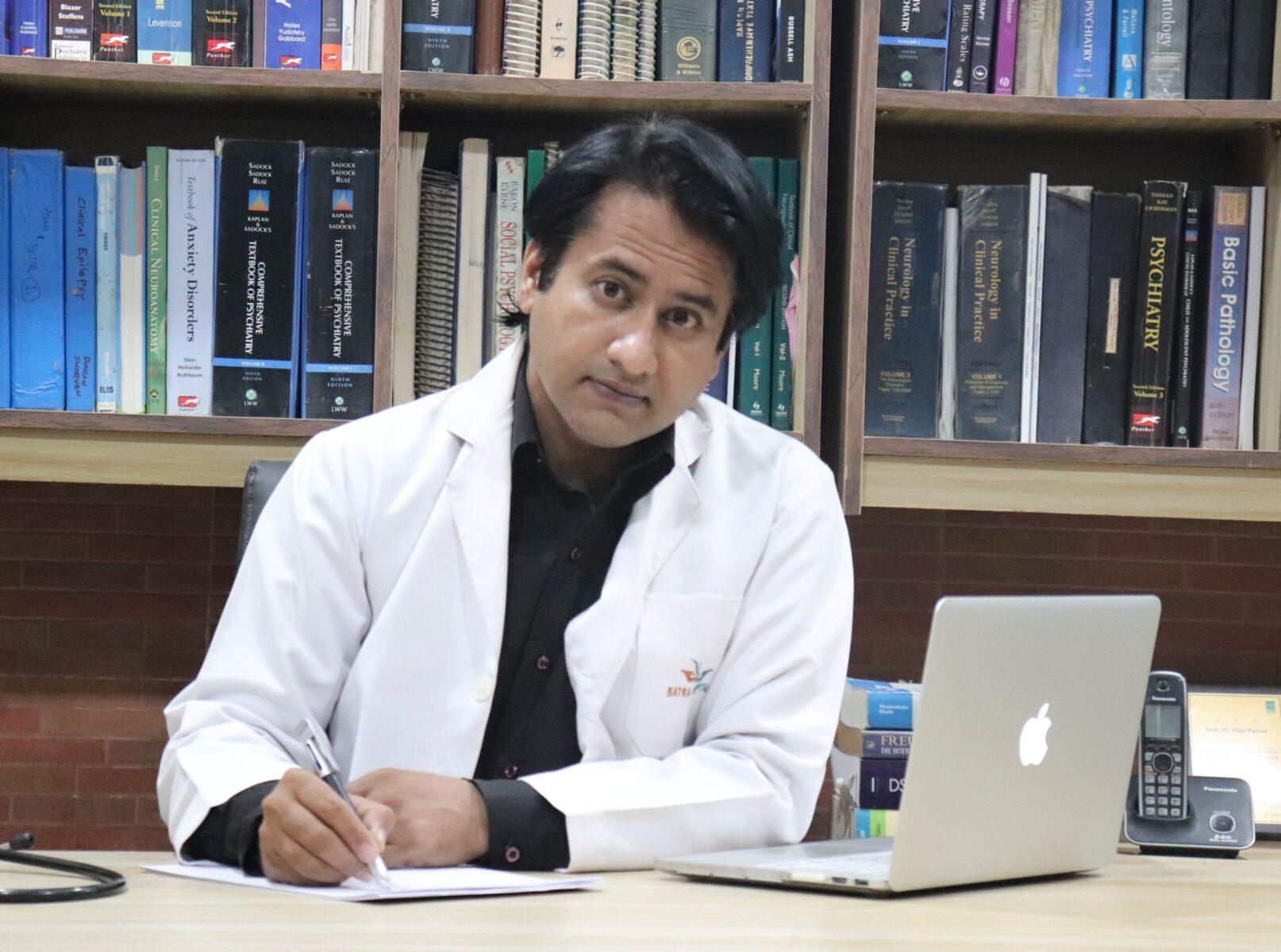 I Can Help
Dr Vijay PathakMBBS MD Psychiatry (CIP RANCHI)Positive Psychology & Psychiatry Practitioner Since 2005Dr. Vijay Pathak is a well-known Consultant and practicing psychiatrist in delhi. After completion of MBBS from Sardar Patel Medical College, Bikaner (University of Rajasthan), he worked in different specialties as Neurology, Neurosurgery, Plastic Surgery, Urology as resident Doctor. The grossly unnoticed psychological trauma among patients tilted his interest in Mental Health and he obtained an MD in Psychiatry from the legendry Central Institute of Psychiatry ,Ranchi.. He then worked in the Department of Psychiatry of RML Hospital New Delhi as Senior Resident for three years and as Research Officer for a further one year. During this period he also gained experience in the Drug Dependence TreatmentHis areas of specialization include adult psychiatry (bipolar disorders, schizophrenia and anxiety disorders), child and adolescent psychiatry (especially ADHD), de-addiction (alcohol and substance abuse) and community psychiatry. One of the Top Psychiatrist in Delhi Dr. Pathak is known to be not only effective but also compassionate with his patients, as a result of which they trust him and connect well with him.Dr. Vijay Pathak, also termed as one of the Best Psychiatrist in Delhi by many of his patients in reviews , has extensive training and experience in his profession and is well-versed in the segments of psychopathology, psychopharmacology, neuroscience, clinical genetics, psychological therapies, research methodology, and statistics.
Dr Vijay Pathak Consultant Psychiatrist in Delhi can be found on google by following tags  Psychiatrist In Delhi, Best Psychiatrist in delhi, Top Psychiatrist in Delhi, Delhi Psychiatrist, Psychiatrist in Rajouri Garden,Best Psychiatrist in Rajouri Garden, Psychiatrist in Hari Nagar, Psychiatrist in Tagore Garden, Psychiatrist in Raja Garden, Psychiatrist in Central Delhi, Psychiatrist in Ramesh Nagar, Psychiatrist in Moti Nagar, Psychiatrist in Shadipur, Psychiatrist Near Me,  Psychiatrist in Karol Bag, Psychiatrist in Rajendra Nagar, Psychiatrist in Punjabi Bag, Psychiatrist in Paschim Vihar,  Psychiatrist in Vikaspuri, Best Psychiatrist in uttam nagar, Best Psychiatrist in subhash nagar, Best Psychiatrist indwarka, Best Psychiatrist in nazafgarh, Best Psychiatrist in bali nagar, Best Psychiatrist in patel nagar, Best Psychiatrist in rani bagh, Best Psychiatrist in west delhi, Best Psychiatrist in tilak nagar, Best Psychiatrist innavada, Best Psychiatrist in delhi cantt, Best Psychiatrist in pitampura, Best Psychiatrist in rohini, Best Psychiatrist in ashok vihar