Many children may struggle in school with some topics or skills from time to time. When children try hard and still struggle with a specific set of skills over time, it could be a sign of a learning disorder. Having a learning disorder means that a child has difficulty in one or more areas of learning, even when overall intelligence or motivation is not affected. 
Some of the symptoms of learning disorders are 
Difficulty telling right from left

 

 

Reversing letters, words, or numbers, after first or second grade 

 

Difficulties recognizing patterns or sorting items by size or shape 

 

Difficulty understanding and following instructions or staying organized 

 

Difficulty remembering what was just said or what was just read 

 

Lacking coordination when moving around 

 

Difficulty doing tasks with the hands, like writing, cutting, or drawing 

 

Difficulty understanding the concept of time 

 
Examples of learning disorders include 
Dyslexia – difficulty with reading 

 

Dyscalculia – difficulty with math 

 

Dysgraphia – difficulty with writing 
Children with learning disorders may feel frustrated that they cannot master a subject despite trying hard, and may act out, act helpless, or withdraw. Learning disorders can also be present with emotional or behavioral disorders, such as attention-deficit/hyperactivity disorder (ADHD), or anxiety. The combination of problems can make it particularly hard for a child to succeed in school. Properly diagnosing each disorder is crucial, so that the child can get the right kind of help for each. 
Treatment for learning disorders 
Children with learning disorders often need extra help and instruction that are specialized for them. Having a learning disorder can qualify a child for special education services in school. Schools usually do their own testing for learning disorders to see if a child needs intervention. An evaluation by a healthcare professional is needed if there are other concerns about the child's behavior or emotions. Parents, healthcare providers, and the school can work together to find the right referrals and treatment.  
The role of healthcare providers  
Healthcare providers can play an important part in collaborating with schools to help a child with learning disorders or other disabilities get the special services they need. The American Academy of Pediatrics (AAP) has created a report that describes the roles that healthcare providers can have in helping children with disabilities external icon, including learning disorders:  
Identifying children in need of early intervention or special education services. 

 

Sharing relevant information with early intervention or school personnel. 

 

Meeting with early intervention or school personnel and parents or guardians. 

 

Using early intervention or school information in medical diagnostic or treatment plans. 

 

Working within an early intervention, school, or school-based health clinic. 

 

Working at an administrative level to improve school functioning around children with special needs.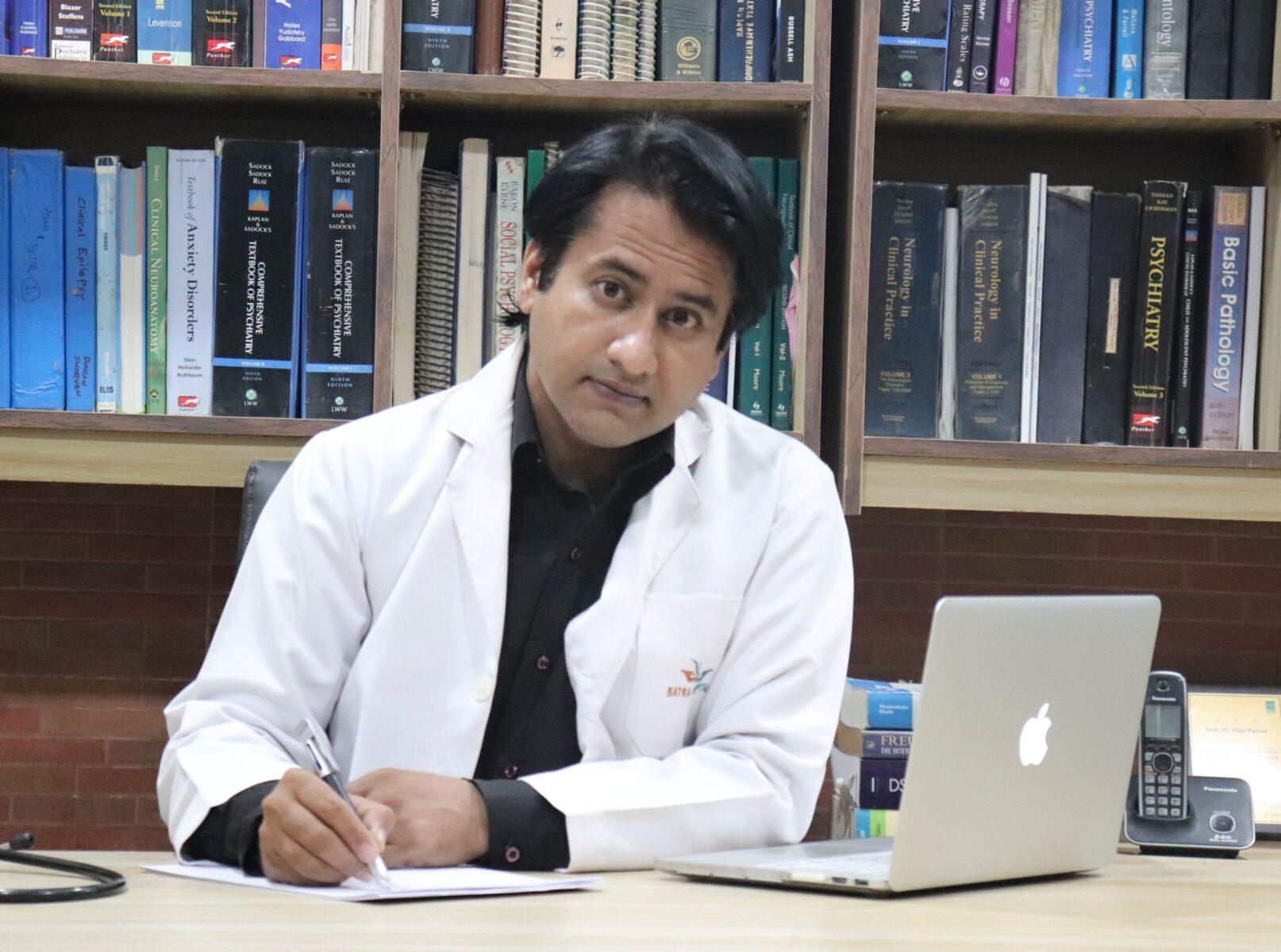 I Can Help
Dr Vijay PathakMBBS MD Psychiatry (CIP RANCHI)Positive Psychology & Psychiatry Practitioner Since 2005Dr. Vijay Pathak is a well-known Consultant and practicing psychiatrist in delhi. After completion of MBBS from Sardar Patel Medical College, Bikaner (University of Rajasthan), he worked in different specialties as Neurology, Neurosurgery, Plastic Surgery, Urology as resident Doctor. The grossly unnoticed psychological trauma among patients tilted his interest in Mental Health and he obtained an MD in Psychiatry from the legendry Central Institute of Psychiatry ,Ranchi.. He then worked in the Department of Psychiatry of RML Hospital New Delhi as Senior Resident for three years and as Research Officer for a further one year. During this period he also gained experience in the Drug Dependence TreatmentHis areas of specialization include adult psychiatry (bipolar disorders, schizophrenia and anxiety disorders), child and adolescent psychiatry (especially ADHD), de-addiction (alcohol and substance abuse) and community psychiatry. One of the Top Psychiatrist in Delhi Dr. Pathak is known to be not only effective but also compassionate with his patients, as a result of which they trust him and connect well with him.Dr. Vijay Pathak, also termed as one of the Best Psychiatrist in Delhi by many of his patients in reviews , has extensive training and experience in his profession and is well-versed in the segments of psychopathology, psychopharmacology, neuroscience, clinical genetics, psychological therapies, research methodology, and statistics.
Dr Vijay Pathak Consultant Psychiatrist in Delhi can be found on google by following tags  Psychiatrist In Delhi, Best Psychiatrist in delhi, Top Psychiatrist in Delhi, Delhi Psychiatrist, Psychiatrist in Rajouri Garden,Best Psychiatrist in Rajouri Garden, Psychiatrist in Hari Nagar, Psychiatrist in Tagore Garden, Psychiatrist in Raja Garden, Psychiatrist in Central Delhi, Psychiatrist in Ramesh Nagar, Psychiatrist in Moti Nagar, Psychiatrist in Shadipur, Psychiatrist Near Me,  Psychiatrist in Karol Bag, Psychiatrist in Rajendra Nagar, Psychiatrist in Punjabi Bag, Psychiatrist in Paschim Vihar,  Psychiatrist in Vikaspuri, Best Psychiatrist in uttam nagar, Best Psychiatrist in subhash nagar, Best Psychiatrist indwarka, Best Psychiatrist in nazafgarh, Best Psychiatrist in bali nagar, Best Psychiatrist in patel nagar, Best Psychiatrist in rani bagh, Best Psychiatrist in west delhi, Best Psychiatrist in tilak nagar, Best Psychiatrist innavada, Best Psychiatrist in delhi cantt, Best Psychiatrist in pitampura, Best Psychiatrist in rohini, Best Psychiatrist in ashok vihar